Six Flags Great Adventure or simply Great Adventure is a Six Flags theme park located in Jackson, New Jersey. It opened on July 1, 1974, and was created by New York businessman Warner LeRoy.
After three seasons, Six Flags acquired Great Adventure from LeRoy in 1977, and the park became a part of the Six Flags family.
Great Adventure is the largest seasonal theme park in the world, and is home to ten themed lands (including two children's areas), which contain 13 world-class roller coasters, as well as many other rides and attractions.
History
Conception
In 1972, entrepreneurial businessman Warner LeRoy, grandson of Harry Warner, one of the founders of Warner. Bros, developed plans for a seven-park entertainment complex he called Great Adventure. LeRoy intended for the massive complex to have an amusement park, a safari park, a show park, a floral park, a sports complex, a shopping district, and a campground with a beach/waterpark and stables. His proposal also included plans for multiple hotels which were connected to the parks and could be reached by boats, buses, a sky ride and/or a monorail, similar to the then-recently opened Walt Disney World in Orlando, Florida. LeRoy wanted his parks to flow naturally through the forest and lakes, capitalizing on the back-to-nature movement of the era. He chose a property then owned by the Switlik family, in an area centrally located between the New York City and Philadelphia regions. The property on County Route 537 had easy access to the newly constructed Interstate 195, which connected central New Jersey to the New Jersey Turnpike (Interstate 95) and would eventually (in 1981) connect to the Garden State Parkway. LeRoy collaborated with Hardwicke Industries, who previously built safari parks in Canada and Europe. Together, they set out to open the seven parks in stages over a 5-year period.
Warner LeRoy era (1974-1977)
Grand opening
After a 4,500 invitation-only guest opening on June 30, 1974, the Great Adventure entertainment complex opened to the general public on July 1, 1974, at a price tag of $10 million. At the time of the opening, only the Enchanted Forest and Safari parks were operational, with elements from five of the other planned parks being used to create the Enchanted Forest.
Six Flags era (1978-)
Acquisition by Six Flags (1978)
In late 1978, Great Adventure was purchased by 
Six Flags
. They were then owned by Penn Central which had large stakes in the Philadelphia and New York City regions.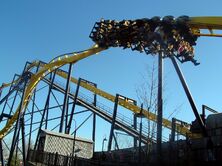 Time Warner era (1990-1998)
In 1990, Time Warner acquired a 19.5% stake in Six Flags Corporation, giving them partial ownership of the company and its theme parks. For the 1990 season, Great Adventure introduced Shockwave, a stand-up coaster that had previously operated at Six Flags Magic Mountain. At the end of the season, Adventure Rivers was announced as the next season's addition.
For 1991, Adventure Rivers opened in what was once a quiet corner of the park near the Splash Down flume ride. It was the most highly themed area added to the park since 1974. Adventure Rivers was themed to the rivers of the world, and contained three dry water slide complexes themed after North America, Africa, and Asia. It also had an Australian-themed children's area named Koala Canyon. To complement the new attractions, existing rides located within and near Adventure Rivers also received new names and themes. Splash Down became Irrawady Riptide, Roaring Rapids became Congo Rapids, and the Rotor ride was rechristened as the Typhoon.
In 1992, Time Warner increased their ownership of the Six Flags Corporation to 50% and Six Flags Great Adventure opened its gates that year as a Time Warner-affiliated company. Former MTV executive Bob Pittman headed up Six Flags as the Chairman and CEO, and longtime Six Flags veteran Larry Cochran served as President and COO.  Ray Williams remained at the park serving as Park President. That season, instead of a new ride, 1992 was headlined by the introduction of the Batman Stunt Show, located in the newly-constructed 3,200-seat arena known as the Batman Stunt Arena.
For 1993, Time Warner was now in total control of the park for the first time and they jumped in head-first to making their presence known, starting with a new highway sign on Route 537 featuring Six Flags' new corporate logo.  The company's mission was to offer locals a heavily themed experience in a theme park that was "bigger than Disneyland but a whole lot closer to home."  Just like at the Disney parks, employees became cast members, themed areas were defined, and new paint, signage, and renamed rides and attractions filled the park.
Premier Parks era (1998-2005)
Premier Parks purchased Six Flags from Time Warner and Boston Ventures on April 1, 1998.
In 1999, Six Flags Great Adventure declared a "War on Lines", adding a dozen new flat rides
Shapiro era (2005-2010)
At the end of 2005, a proxy battle resulted in two major stockholders assuming control of the Six Flags Board. The Premier Group was ousted in December and the new board appointed Mark Shapiro as CEO. In 2007, the park added Wiggles World and removed Batman & Robin: The Chiller. The rolls were replaced with banked hills to enhance ride performance. However, the ride closed forever on June 28 due to technical problems with the ride. Disassembling occurred that September. In addition, the path leading to Chiller was blocked off and several rides including Freefall, Splashwater Falls/Movietown Water Effect, and a couple other flat rides were removed.
Weber/Anderson/Duffey era (2010)
The theme park's parent Six Flags emerged from their 2009-2010 Chapter 11 bankruptcy with Al Weber Jr. as an interim CEO, who was subsequently replaced by Jim Reid-Anderson in August 2010. The company parent also moved its corporate headquarters from New York City back to Texas where the company started.
Areas and attractions
Fantasy Forest
Attractions
Dining
Adventure Alley
Attractions
Adventure Seaport
Attractions
Safari Kids
Attractions
Looney Tunes Seaport
Attractions
Movietown
Attractions
Lakefront
Attractions
Frontier Adventures
Attractions
Dining
Attractions
The Golden Kingdom
Attractions
Boardwalk
Attractions
Former Attractions
Roller Coasters
Special events
Current
Retired
External links
Community content is available under
CC-BY-SA
unless otherwise noted.